How to Clean and Maintain Granite Countertops
Granite countertops are not only visually appealing but also durable and resistant to heat and scratches. To keep your granite countertops looking their best, it's essential to establish a regular cleaning and maintenance routine. In this blog post, we will explore simple yet effective methods for cleaning and maintaining granite countertops, ensuring their long-lasting beauty.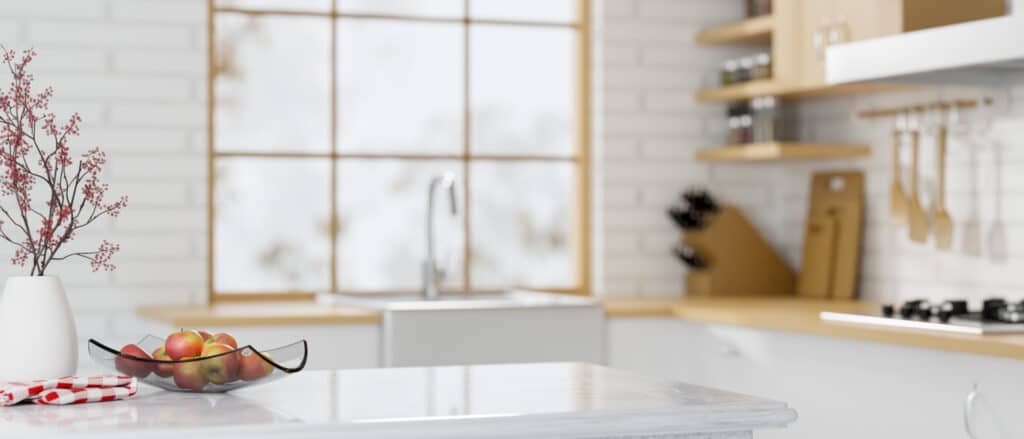 Firstly, let's discuss the importance of daily cleaning. It's crucial to clean your granite countertops daily using a soft, damp cloth or sponge. This helps remove any spills, crumbs, or residue that may accumulate throughout the day. Avoid using abrasive materials or harsh chemicals as they can cause damage. If necessary, a mild dish soap or a specialized granite cleaner can be used.
Another great tip on how to clean your granite countertops is to tackle stubborn stains by creating a paste using baking soda and water. Apply the paste to the stained area, cover it with plastic wrap, and let it sit overnight. In the morning, gently wipe away the paste and rinse with water. This method effectively removes stains without harming the granite surface.
To prevent scratches, always use cutting boards or mats when working with sharp objects on your countertops. Avoid dragging heavy objects across the surface, as it can cause scratches. Additionally, using coasters or trivets for hot items will protect the granite from heat damage.
How to Clean and Maintain Granite Countertops
Regularly sealing your granite countertops is vital to maintain their beauty and protect them from stains. Test the sealant by pouring water on the surface. If the water beads up, the seal is intact. If it absorbs, it's time to reseal. Follow the manufacturer's instructions for the appropriate sealant and application process.
Promptly clean up spills, especially acidic substances like citrus juice, wine, or vinegar. Acidic liquids can etch the surface if left for too long. Blot the spills with a clean cloth rather than wiping to prevent spreading and potential damage.
Avoid using harsh cleaning products while cleaning your granite countertops containing ammonia, bleach, or vinegar as they can dull the granite and break down the sealant. Instead, opt for pH-neutral or granite-specific cleaners. Regular dusting and keeping the countertop dry will prevent the accumulation of debris and water spots.
By following these simple steps for cleaning and maintaining your granite countertops, you can ensure their longevity and preserve their natural beauty. With proper care, your granite countertops will continue to impress and be a stunning addition to your home for years to come.
Check out some more blog posts on cleaning such as cleaning tips for allergy sufferers. We also offer lots of cleaning services such as Dental Office Cleaning